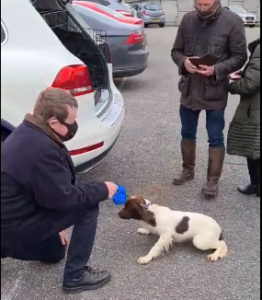 Gardaí have reunited stolen dog "Ruby" with her family in Midleton, Co. Cork after being found in the UK.
In June 2020, Detective Gardaí in Midleton received a report that a springer spaniel had been stolen from her kennel in the greater Midleton area. Detectives began investigating and an appeal was made via the Garda Southern Region Facebook page in an attempt to find her.
The post was viewed by nearly 100,000 people and was spotted by an eagle eyed lady in the UK. The lady then made contact after she had seen Ruby was up for sale on a website in the UK. With the assistance of Somerset Police, Ruby was recovered and made the some 500km journey via Rosslare back to Midleton in time for Christmas.
We are appeal to all pet owners to take all extra security precautions and ensure their pets are microchipped.
Our Crime Prevention Officers and Community Garda are always available to offer crime prevention advice. You can also find lost of tips on
www.garda.ie